Ann grew up in Bellingham, Washington on her parents farm. Her father has been a farrier for 25 years and her mom has been involved with horses since she was a child. Ann has been riding horses since before she can remember. She competed through her young life in many different events from Western and English Pleasure- Barrel Racing and learned how to start colts at the age of 14.

Resume: Some of the amazing mentors that have helped further my horsemanship goals

2002-2007 Van Zandt Equine, Bellingham, Wa

Colt Starting, Western Performance, Barrel racing/Gymkhana, teaching lessons

Studied under Sheli Siguaw a Ken McNabb certified trainer. Sheli was invaluable in shaping my young horsemanship experiences and helping to develop my passion for training and teaching.

2004-2006- Roger Davis Reining Horses, Bellingham, Wa

Foundation work and reining

Roger helped to introduce me to the foundation work to further my horses training.

2008- PATH INT'L

Received Certification as Path Int'l Instructor in Therapeutic Horsemanship
Learned how to work with riders with disabilities and challenges which really helped me learn how to use the horses movement as therapy and helped me to communicate and help all riders

2009-2011- MR Horsemanship, Anaheim, Ca
Ranch sorting/cattle work, sensory, trail, foundation work, gymkhana
During my time working for Mary Rose, she helped me learn how to read a cow, the sport of ranch sorting and furthered my knowledge of gymkhana and sensory challenges.

2009-2015- Anaheim Hills Saddle Club, Anaheim Hills, Ca

Ranch Sorting, Natural Horsemanship, barrels/gymkhana, foundation work

My time here was invaluable with the amount of knowledge and experience I was able to gain from watching and learning from different clinicians and trainers who came through.

2013-2015- Dallas Wedel Performance Horses, San Juan Capistrano, Ca

Reining

Dallas really helped me with my feel, timing and riding position!

2014-2015- Bales Performance Horses Anaheim, Ca

Reining and foundation work
Marty helped me with the foundation work to create a soft, willing horse as well as helped me with reining maneuvers.

July 2015-2016- Galligan Performance Horses, Petaluma, Ca Reining
During my time working for Ollie, I gained experience riding some amazing reining horses and learned how to keep them soft, tuned up and show ready.

After high school, Ann moved to Orange County where she continued learning and gaining knowledge in horsemanship.

Ann started working at the Anaheim Hills Saddle Club in 2009 teaching western and therapeutic lessons and training horses. During that time she was also going to school for business and studying under reining and cow horse trainers in the area. She also competed herself and coached students in ranch sorting, gymkhana and western performance.

Ann's husband Matt received a job in Napa, Ca in June 2015 and so the team has moved north to American Canyon. In February 2016, they welcomed their first baby girl Aria Joyce Simon into the world!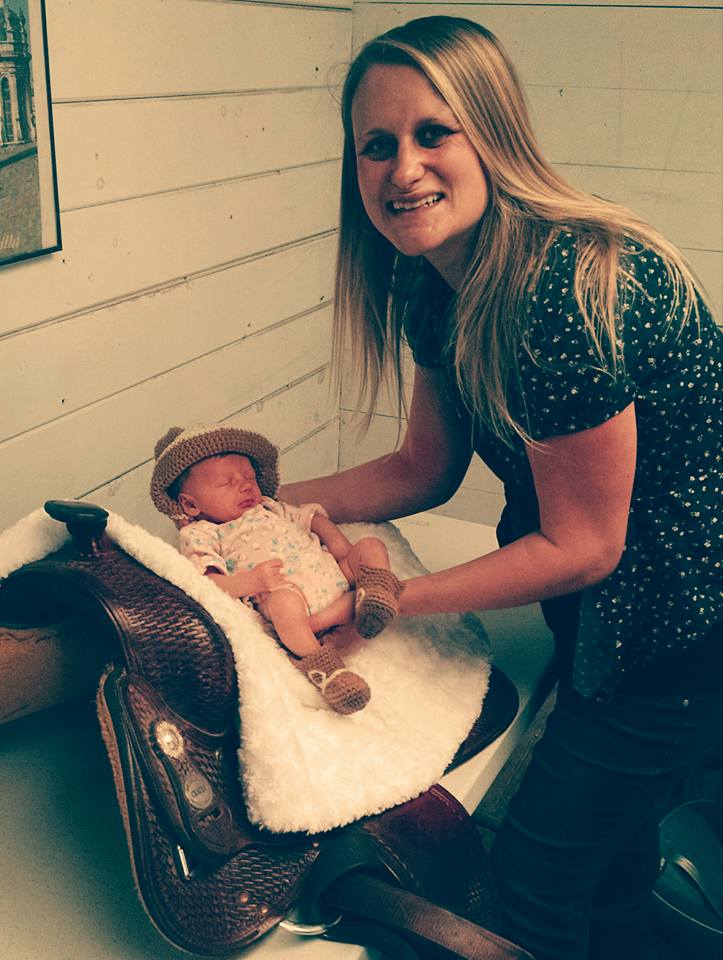 Ann continues to work with top trainers in the industry with a focus in horsemanship, reining and cow horse to further her knowledge of horses, horse training and teaching others.