Would you like to help us out and share your thoughts on your experiences at Simon Horsemanship? Email Ann at Ann@simonhorsmanship.com to have it posted on this page!
Ann has done so much to help my horse and myself with my confidence. Her level of care is exceptional, you won't be disappointed!

Her program is perfect for novice, non-pros and youths. Ann is very patient and kind, I highly recommend her! Now if Maggie will just stay out of trouble long enough for us to go show LOL
- Laura Pierce- Training and lesson client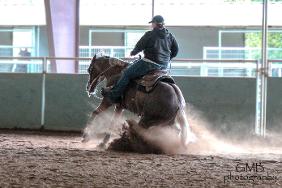 I want to thank Ann Simon of Simon Horsemanship for all her help and support for the past year (with our young cowhorse stallion). Without her entering our lives we would not be at this next step. I can hardly believe it has only been a year.
Ann has a feel for the horses that is uncommon and she never pushed Maverick beyond his physical abilities and recognized his subtle lameness that many would have pushed past. This was a critical piece in us getting our horse back.
Hauling us to Western Performance Equine and handling Maverick during his exam was the best decision we ever made with Maverick.
Ann, Matt and Aria are now up in Washington and we want to wish them all the happiness and success with their growing family and establishing her clientele up there. We are forever grateful. I highly recommend Ann Simon.
Maverick says thank you for the ball!
-Amy Corbett, Training Client

Ann is an amazing trainer! I miss her (reasons below) but am so excited she has found a new a home where she can continue to share her horsemanship! Ann has a natural confidence and calm that is so effective not only with me, but with my horse as well. I am a new rider, starting in my fifties. Ann is patient, knowledgeable, and I really began to appreciate her magic touch with horses after I purchased my own. Her ability and lessons helped build the skills and confidence I felt I needed before I took that life changing step! Then she worked with me and my young gelding as a team, recognizing where we both needed work. I am a retired woman living a childhood dream thanks in large part to Ann!!!

Kristy Milani- Training Client

What an awesome day today. We brought Victoria back home. I cannot thank Ann Simon of Simon Horsemanship enough for everything she has done for us starting my filly. I highly recommend her for colt starting...lessons..or helping you get your reiner or cow horse to the next level. She is honest and hard working and will get the job done. It was especially nice to have the breeder of this beautiful horse there to watch her being ridden today. My heart is full of gratitude!
Terri Aispuro- Training Client

I've had the pleasure of working with Ann for the past year and a half or so. She opened my eyes to a whole new world, having fun with what my mare was bred to do, she was super honest with us and our goals and really helped with my journey back into the education part of horsemanship! I highly recommend her!

-Gabby Benson- Training client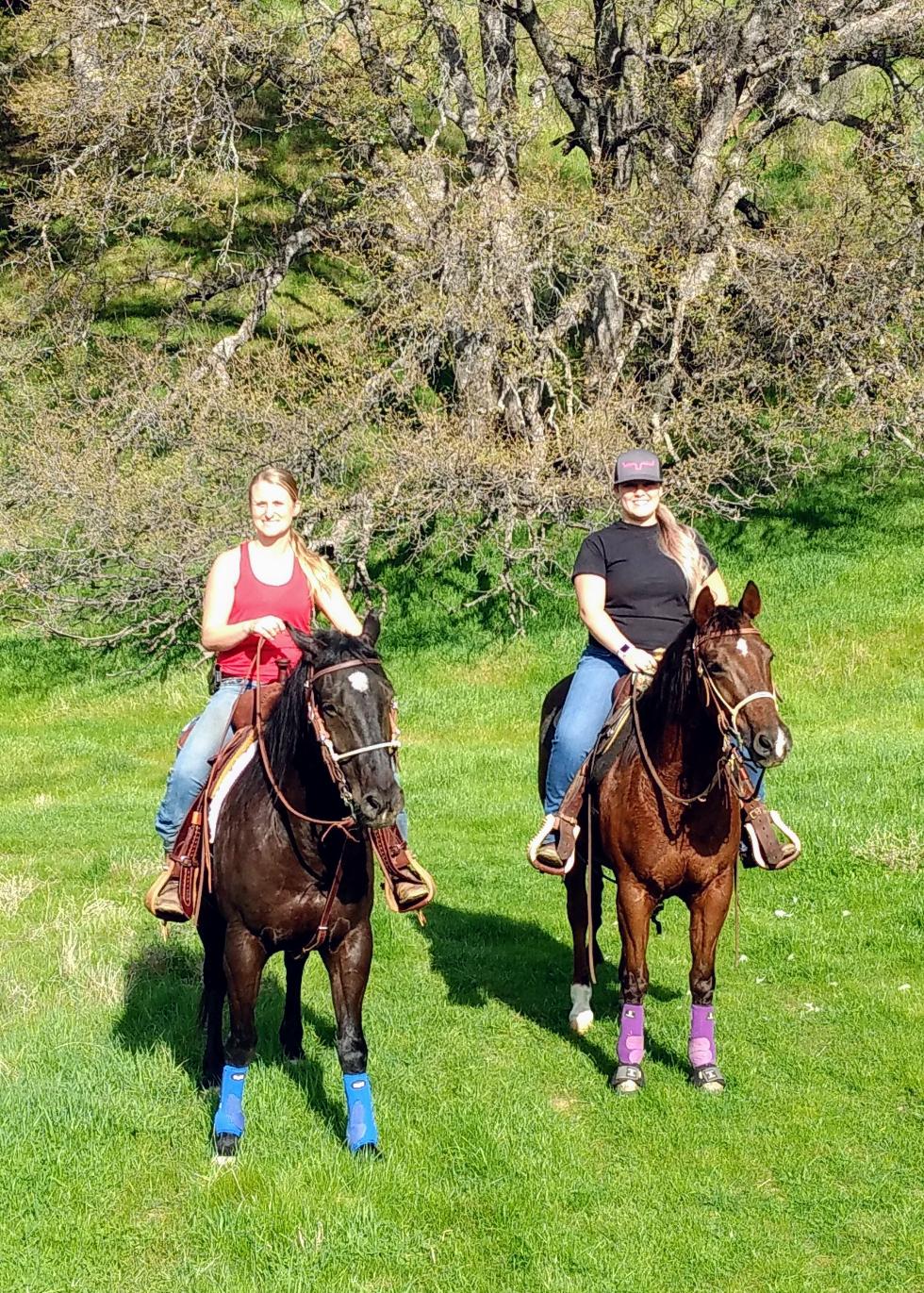 Ann Simon has been our horse trainer and instructor for four years plus. She is a very talented trainer for both the rider and horse. Always making safety the priority for the riders she teaches calmly and confidently. She can teach private or in groups any age, arena or trail. Ann is capable of diagnosing and correcting an unstable or untrained horse. She has trained all 3 of my Quarter horses to keep them in safe, rideable condition. She also helping with the breeding process and foaling of my mare and filly and subsequent training of the filly. I have personally seen her train children of all ages and they all like her and want to progress in her programs. She was my personal trainer and I highly recommended her for all equine programs, English or Western.

Sincerely,
Sally Wickman- Client, Owner of Green Valley Rides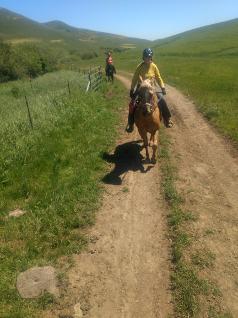 Ann puts a solid foundation on the horses she trains which is extremely important. Ann has tons of horse experience and is a calm, sweet person always. She did a wonderful job with starting two of my colts and tuning and selling a mare for me. I recommend Ann for all types of training and great, fun riding lessons for all!

Susan Fergusen- Training Client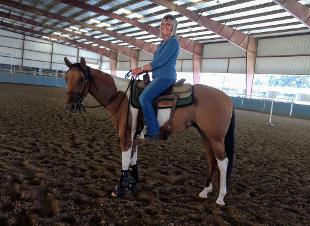 Ann is amazing! We worked with her for about 2 years. The first year we leased one of her horses and the second, she helped us with the purchase of our own horse and subsequent training. My daughter is 12 and absolutely loves Ann! She is patient (12 year old girls?!?!), always remains calm and is always willing to help. Once we got our own horse, she helped immensely with figuring things out for us and our new purchase! Can't recommend her highly enough. The only reason we still aren't training with her is because she relocated. We miss her!!!
-Gina Charbonneau- Training Client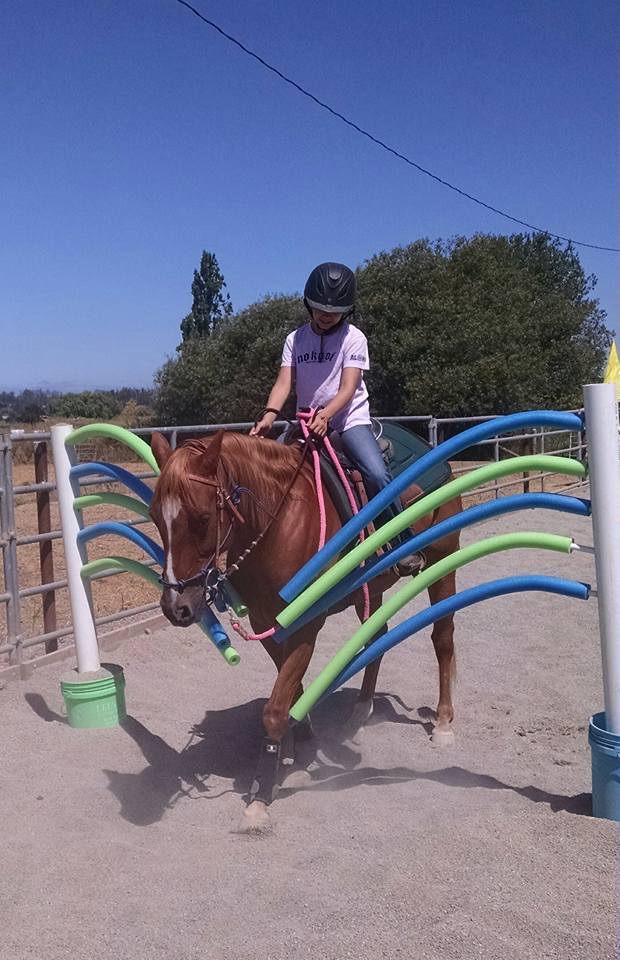 I am so grateful that I found Ann Simon (Simon Horsemanship). I had a horse as a kid and rode bareback fearlessly through the hills of Marin. I started back into horse's 5 years ago (late 40's) and had a couple scary experiences and lost my confidence. I worked with a couple different trainers but just wasn't progressing or thrilled with my riding. Then a friend highly recommended Ann. I now have been taking lesson's with Ann for over a year and feel 100% better. I'm now excited about riding again. Her horses are well trained, which it makes it easy to relax and focus. After each lesson I feel my head is a bit higher, my shoulders more square and looking forward in the direction I want the horse to take me. I even love ground work now. I had no idea how important AND fun that could be. It's wonderful to have that connection again. I leave the barn with a huge smile and looking forward to my next lesson.
Ann's amazing to watch when she's working with clients horses. She's extremely knowledgeable and a very talented rider. She genuinely loves horses and wants the best for horse & rider. I'm looking forward to finding my own horse and working with Ann to continue this wonderful journey! I would recommend Ann to any level of rider or horsemanship ability. Thank you Ann for helping me Live my Dream!
Tracy Thompson- Lesson/Training Client

Ann is the best!! I searched around for a while for a trainer that would work with my horse Reggie and help me sell him (we were moving out of state and couldn't take him). Reggie is a special horse with issues due to his previous owner being very abusive to him. I am a novice owner so I didn't know how to detect or handle the signs. I knew something was wrong with him and that he needed a special trainer to work with him. Ann was wonderful, she took a lot of time with Reggie and really figured out what made him tick. She didn't just jump in to train him enough that he could be sold. She really worked hard with him breaking down what his issues were and what needed to be done for Reggie's best interest.
After we moved she would text me pictures of him and give me weekly updates on his progress. I was so torn moving and not taking him with us, but in the end leaving him to train with Ann was the very best thing we could do for him. I can't say enough good things about how she really thought outside the box with his training and took him back to the basics to show him not everyone would beat him. Every time I saw a new picture or video of him I was amazed at how confident he had become. When he was ready to but put up for sale, Ann made sure he got the very best home. I was very impressed how she would tell me, after someone would look at him, that they just weren't the right home for him. She could of sold him to anyone but took the time to find him a GREAT home with a strong rider that knew how to work with him.
Thank you Ann from the bottom of my heart. You were a life saver to Reggie and I will always appreciate all that you did for him.
Pat Richcreek- Training client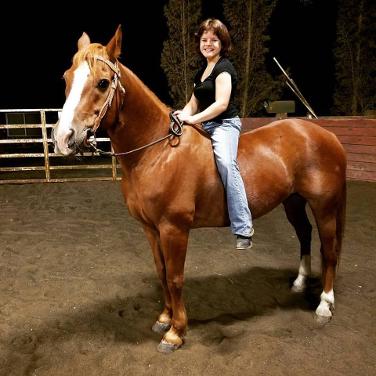 We are so grateful that we found Ann Simon at Simon Horsemanship LLC! Ann is lovely to work with and she is extremely patient and kind. Ann has helped our daughter tremendously with her confidence through her training and riding lessons and now even going to a couple shows. Riding with Ann is the highlight of our week. We highly recommend Ann Simon as a trainer and Simon Horsemanship.

Amy Waud-Reiter- Lesson Client

I purchased a little Spanish Arabian named Hawk. I had horses as a child growing up and in the past 15 years had gotten away from it while raising a family. So when I purchased Hawk I was so excited to back into horses once again.
I thought I had done enough by taking lessons a couple of years before I bought him to prepare myself for having a horse of my own.
Although Hawk unfortunately was not as trained as I was told, I still believed he was the horse for me. The timing was really Good for me too. My dad just met Hawk just two days before my dad passed away. Having Hawk in my life at this time was very special and healing.

Before I met Ann, Hawk and I while getting to know each other had a bad accident. While out riding early spring some sprinklers came on near us and spooked Hawk which resulted in both of us falling over and my ankle getting was crushed underneath him.

After all of this Hawk and I really needed help. I needed to regain my confidence again and Hawk was still pretty green and needed some help as well.
Before Ann I had been told by a couple of trainers here in Davis that Hawk may be to much horse for me, and to think of getting a horse more calm, older and experienced. I was devastated.

I found Ann searching online in a desperate attempt to find another answer. I found Ann and she really is incredible!
She was patient, listened to me and made me feel that with focus, dedication and time Hawk and I were not a wrong match.
Ann is so professional. She is honest. Her approach to horse training is kind and assertive. She helped me regain my confidence.
Everyday is still work and Hawk and I are doing well, but I feel confident knowing she is always there to help me when I need it.
Sense I have been at the barn we're she teaches I have enjoyed watching her train other green horses. She is awesome to watch. Ann has also been giving my daughter riding lessons in hopes one day being able to ride Hawk as well.

I highly recommend her to anyone looking for an honest person who really knows horses and has a lot of experience. Ann is really awesome and I am so grateful to have found her. Thank you Ann :)
- Amber L.- Training Client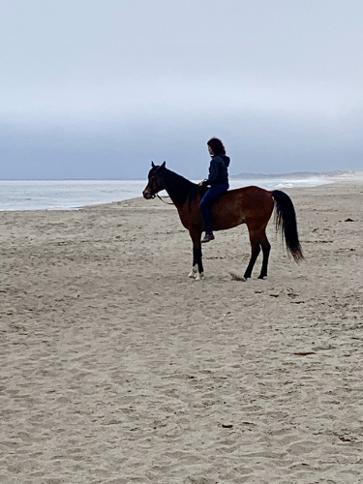 A Big Thank You to Ann Simon for getting such a nice stop and feel on my horse Goose..... Ann is A Fantastic Natural Horsemanship Trainer specializing in Reining. Ann is also a PATH Instructor like myself. I highly recommend her for any of your horse training needs. I am very happy that we have met, and have been able to work together!
Charlotte Dougherty- Training Client and fellow instructor

I worked with Ann briefly with my mare. Ann is great! Very patient with me! Gentle with the horses. Wish I'd had the time and resources to have worked with her longer. I'd highly recommend her to anyone!
- Sharon Cunigan- Training Client

Thank you for the out pour of kind messages and testimonials from students in Anaheim Hills after hearing of my move to American Canyon (in 2015). You are missed dearly!
Testimonial Video:
https://www.youtube.com/embed/vkC_S1O1ODI

Ann,
We, Layla, Luis & I thank you for the training and opportunity to volunteer for your "Helping Hooves" therapeutic equine program, learning more of Natural Horsemanship and horse training and our riding lessons with you.
I shall always remember little Ryan's biggest smiles upon arriving at the stable, he kept smiling during his therapeutic riding lessons and, despite of any pain, he still smiled when his lesson was over!
Equally fond are my memories of:
The young blind man who seldom missed the net when he threw the ball and, he always sang "Home, Home On The Range" during his "trail ride" of the stable's common areas.
A middle aged woman who has MS, her fight to retain her mobility, especially the mobility of her lower extremities that allows her to drive a non-altered for special needs car and, her continued ability to walk.
The female teenager who has benefited immensely from your therapeutic riding lessons and, her strengthened back muscles allow her to ride with only a waist/ midriff corset.
I also recall the female teenager volunteer who has the physical scars from knife cuts and cigarettes burns her mother inflicted on her body during her childhood until she found refuge with her grandparents. Your "Helping Hooves" program and your horses helped to heal her physical and emotional wounds.
Layla and I too felt the healing power from being around and working with you and your horses! Starting in May 2011 we adopted Starlight N Roses. Through caring for horses, we have met and connected with many nice individuals & families and, in the end, founded our "Horse Family" which is comprised of 2-legged & 4-legged members. We are forever thankful for what you have taught us about horses, have showed us how horses help people to heal and, helped us to realize how much "richer" life is once you let horses teach you what is really important in life!
We wish you, Matt & your animals a safe move to Napa and, hope you will settle nicely in your new home!
Beate Davis- Student and volunteer
Thank you for helping Tatum become the rider she is. We will never forget you or Gibson. I always felt so safe when she was with both of you.
Michele Pickel, Mother of student
I love Gibson, he's very versatile and lots of fun! I have ridden him for more than three years and have come to love him lots! He's the best horse I have ever ridden. Sadly for me I will say goodbye to him and his owner Ann Simon next week as they embark on a new journey in American Canyon in Napa Valley. I have learned a lot from Gibson but even more from Ann- I will miss her as much as I will miss Gibson! I know you will excel at whatever you do Ann!
Shelly Menelly- Friend, student, volunteer and leaser of Gibson for 3 years
Ann has an amazing gift. I wish her and Matt all the best in Northern California! Bless you Ann for all you have done for Kid and I!!
Suzie Reeb, Student/training client

Ann,
Thank you so much for teaching Kevin and I about horses, it has been truly life changing.

My special needs daughter Jamie came to Ann as a total beginner about a year and a half ago when her Aunt purchased a lessons package for her as a gift. I admit that I was somewhat skeptical of the whole idea at that time and I wasn't sure how it would turn out. To my delight it has turned out to be an extraordinarily positive experience, not only for Jamie, but for myself and my wife Mary. Jamie has progressed beyond what I ever thought possible. She is a very high functioning special needs young adult, but I never expected her to do so well so quickly. Under Ann's patient guidance she has learned about basic horsemanship and how to handle a horse while in the saddle, up to and including being able to trot the horse, and is even beginning to canter. This has done wonders for her self-confidence and self-esteem. And it gives her something in her life that she truly loves and looks forward to doing, building upon the love she already had for horses. It inspired my wife Mary to begin her own private lessons with Ann, which is going very well indeed as Mary's lifelong dream of learning to ride is now being fulfilled. They both look so forward to their lessons and time with the horses and it's a wonderful thing that brings them both much happiness. As for myself, I have learned much about these magnificent animals, and even though I don't ride or want to ride, I've gotten great satisfaction from seeing the joy it brings Jamie and Mary, and had my consciousness raised about these extraordinary creatures. I truly enjoy the time we spend together with the horses, and I am so grateful to Ann for bringing this positive activity into our lives. Whether it's for special needs therapeutic riding or for private lessons I would highly recommend Ann and her organization. 5 Stars!

-Tom Rush, parent and husband of students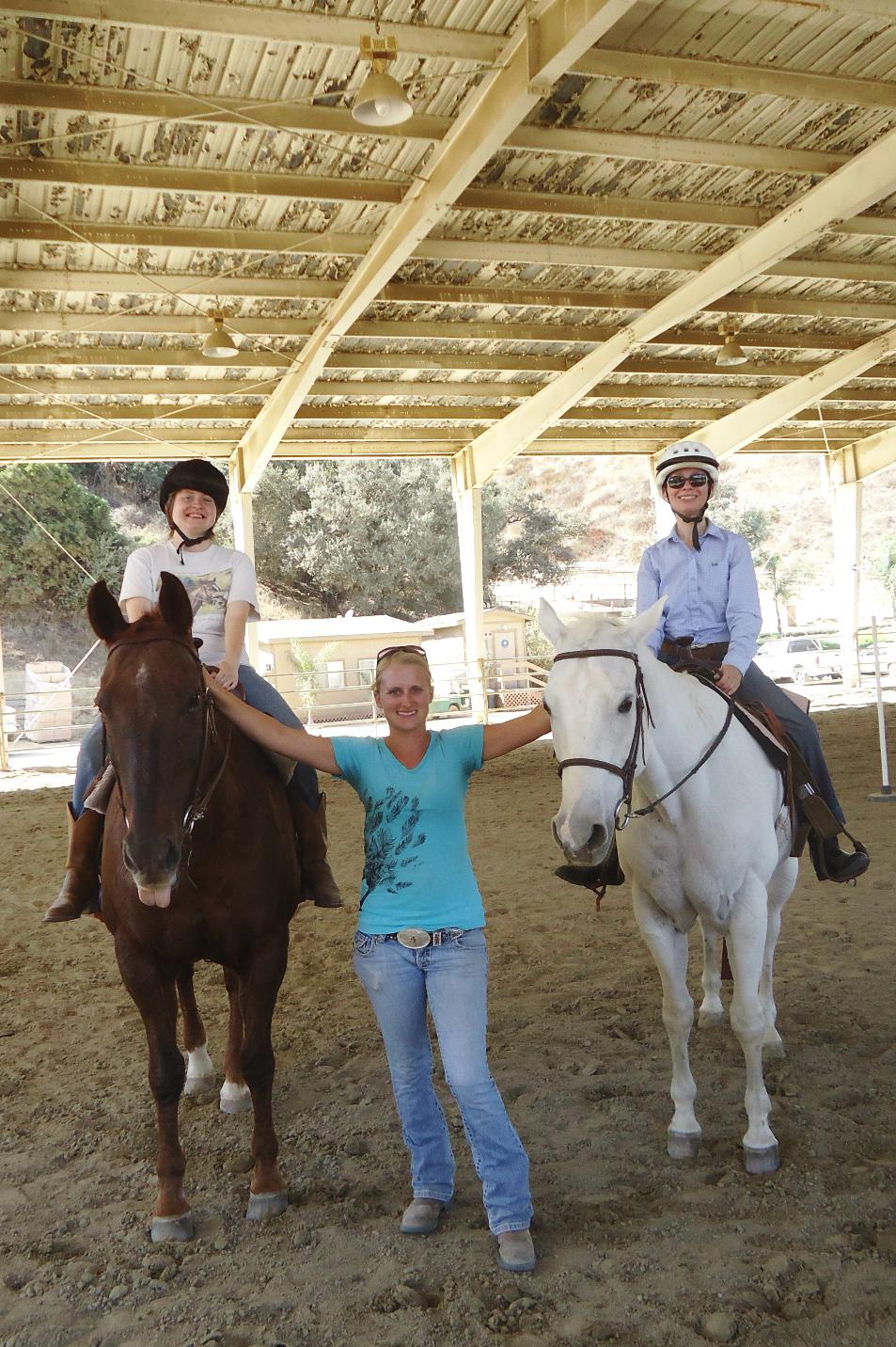 Our son loves going every Sunday to ride Buster. He has gained so much self confidence since he started back in February 2011. His balance has improved, and his tolerance to a lot of things has improved. The volunteers are so happy to be there and help. (I think that they get as much out of it as the kids do!) I would recommend Ann to anyone who is looking to ride and learn more about horses. It is one of the best things that we have ever done for our son.

-Laryn Nolan, parent of Therapeutic riding student
Our 4 year old daughter has many challenges with her trunk control and tightness in her legs due to her cerebral palsy. She even had to have surgery to loosen her leg muscles and her Dr recommended we get her into a horse riding therapy program as soon as possible. She began riding two months ago and loves it! Her trunk control continues to improve with every session. She sits up much straighter now on her own and has even started talking more.

-Rachel Sutherland, parent of therapy student
One of the great things about Ann is her incredible calmness and patience with her students and horses. She has an endless amount of both. If you are looking for fun, safe and skilled lessons, this is the place for you and your family. Two thumbs way up!

-Nicole Falconer, training client/student


I wanted to extend my deepest gratitude for your expertise and patience working with Jamie. She has gotten so much joy and a real sense of accomplishment from training with you and building relationships with the horses. We all feel very fortunate to know you and about your program.

-- Sue Rush, parent of student